excellence, vol 20, no 2
Check out LP's Awards of Excellence issue, with a stellar project on every page. Variety is the name of the game, from the complex and imaginative planning for Breathe, Edmonton's green network strategy, to the ecologically sensitive installation of 287 steps through the rugged terrain of the Parliament Hill escarpment. (It's like climbing a 12-storey building!)
Click on the covers to download the digital editions
---
silos, vol 20, no 1
The words on the benches and earthworks emerging on the hilly turf at Fort Needham Memorial Park are few, but they are puzzling – even frightening. "Guncotton." "Mono-chlorbenzol." "Trinitrotoluol (TNT)." A century after the Halifax explosion, memories of Canada's largest explosion are embedded in the landscape. Experiential graphic artists of Form :Media, together with landscape architects of Ekistics Planning & Design, believe in the power of the provocative detail in the landscape, because "discovery can be as effective as a history book."
Click on the covers to download the digital editions
---
invention, vol 19, no 4 (winter 2017)
---
excellence, vol 19, no 3 (autumn 2017)
---
messy, vol 19, no 2 (summer 2017)
---
big, vol 19, no 1 (spring 2017)
---
time, vol 18, no 4 (winter 2016)
---
excellence, vol 18, no 3 (autumn 2016)
---
learn, vol 18, no 2 (summer 2016)
---
wet places, vol 18, no 1 (spring 2016)
CLICK HERE to view the digital issue including exclusive online material and translations of articles in LP+
L|P Also Brings You Online Exclusives in LP+
---
cultural dimensions, vol 17, no 4 (winter 2015)
CLICK HERE to view the digital issue including exclusive online material and translations of articles in LP+
---
excellence, vol 17, no 3 (autumn 2015)
CLICK HERE to view the digital issue including exclusive online material and translations of articles in LP+
L|P also brings you online exclusives in L|P+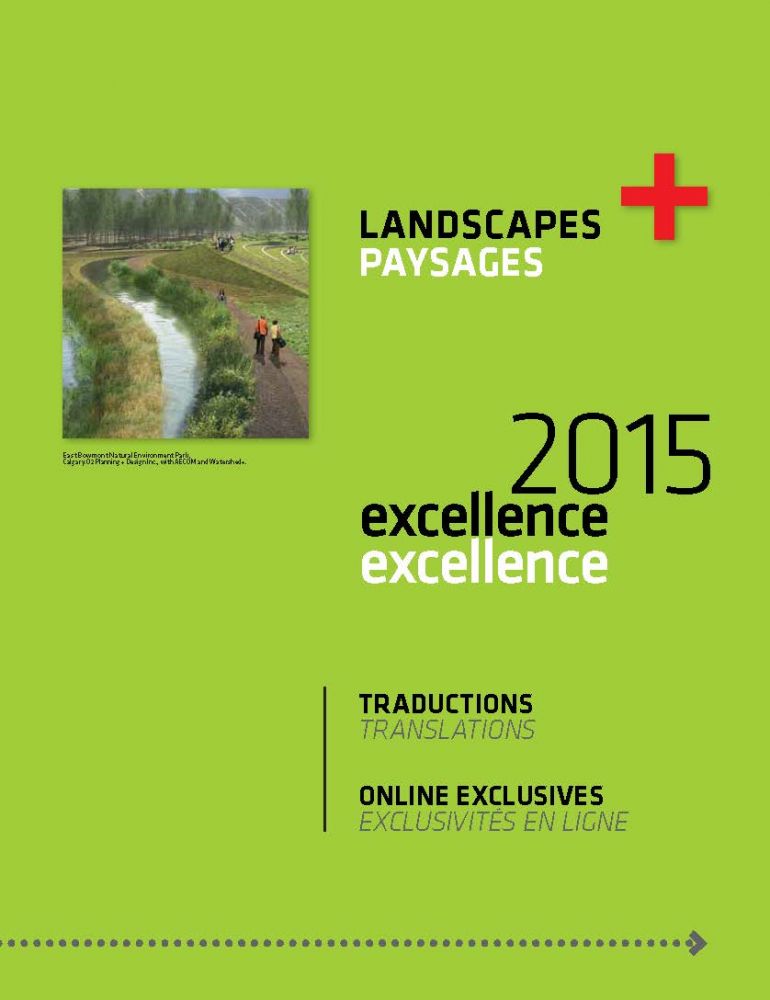 ---
agropolis, vol 17 no 2 (summer 2015)
CLICK HERE to view the digital issue including exclusive online material and translations of articles in LP+
CLICK HERE to view the .pdf
---
the new small, vol 17 no 1 (spring 2015)
CLICK HERE to view the digital issue including exclusive online material and translations of articles in LP+
CLICK HERE to view the .pdf
---
resilience, vol 16 no 4 (winter 2014)
CLICK HERE to view the digital issue including exclusive online material and translations of articles in LP+
CLICK HERE to view the .pdf
---
excellence, vol 16 no 3 (autumn 2014)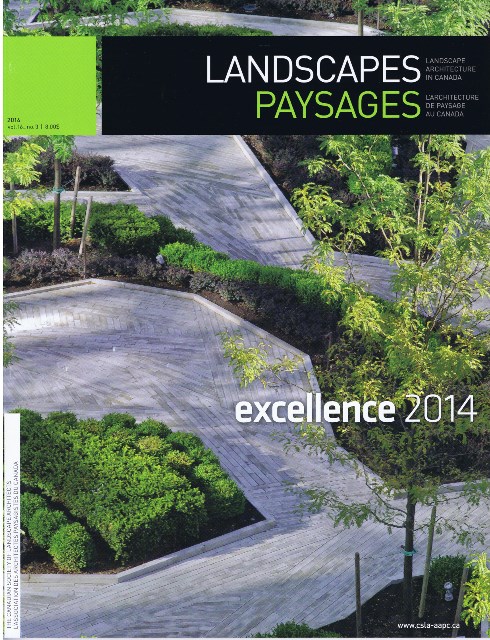 CLICK HERE to view the digital issue including exclusive online material and translations of articles in LP+
CLICK HERE to view the .pdf
---
healing, vol 16 no 2 (summer 2014)
CLICK HERE to view the digital issue including exclusive online material and translations of articles in LP+
---
winter colour, vol 16 no 1 (winter 2014)
CLICK HERE to view the digital issue including exclusive online material and translations of articles in LP+
CLICK HERE to view the magazine in .pdf
---
water world, vol 15 no 4 (autumn 2013)
CLICK HERE to view the digital issue including exclusive online material in LP+
CLICK HERE to view the magazine in .pdf
Translations
Jean Landry, Canadian Landscape Charter Initiative
Groupe Rousseau Lefebvre_Mélanie Glorieux, The Elements of Surprise: Defying Expectations
---
awards of excellence, vol 15 no 3 (summer 2013)
CLICK HERE to view the digital issue including exclusive online material in LP+
CLICK HERE to view the magazine in .pdf
---
night lights, vol 15 no 1 (winter 2013)
NEW! LP+
Connect with us... in the clouds. Check out our online exclusives. There's more LP than you imagine!
Remembering Michael Hough
- On Planning, Preservation, Pedagogy and Public Works: Pierre Bélanger Speaks with Michael Hough (LP, 2009)
- Michael Hough, The Urban Landscape - The Hidden Frontier (APT Bulletin)
AND
Brenda J. Brown's Design Studio
Translations
Fondation CLU, Lightitude: Lighting Communties Near the Arctic Circle
Maude M. Sevigny and Sébastien Giguère, To Infinity - and Beyond! How the Skies of Mont Mégantic Were Darkened
---
the elusive city, vol 15 no 2 (spring 2013)
CLICK HERE to view the digital issue including exclusive online material in LP+
CLICK HERE to view the .pdf issue
Translations
Philippe Poullaouec-Gonidec + Sylvain Paquette, YUL-MTL: Design as a Coordinating Force
Wendy Graham, Monumental Restoration
---
trailblazers, vol 14 no 1 (winter 2012)
Translations
The Pink Balls, Claude Cormier + Associés Inc.
The Magic of Ice, Whiteness and Light, Malaka Ackaoui
Greenery, Social Diversity + Easy Mobility, Juliette Patterson
Acadian Landscapes, Ronald F. Williams
---
transported, vol 14 no 2 (spring 2012)

Translations
Juliette Patterson, Maison PRODUCTIVE House
Mathieu Casavant, Mosaïques: A New Space in Place de l'Acadie
Mélanie Glorieux, Not Your Ordinary Parking Lot
Ron Williams, How Trains Shaped Canada's Landscape
---
awards of excellence, vol 14 no 3 (summer 2012)
Also this year, we've included the National Urban Design Awards
---
time + place, vol 14 no 4 (autumn 2012)
Special Online-Only Content
Place d'Armes - Memories in Stone by Robert Desjardins and Luu Nguyen
Translations
Mathieu Casavant's 500 Ornaments
Peter Soland's A Restorative Noel
---
new professionals, vol 13 no 1 (winter 2011)
Translations
Quebec Landscape Management Guide, by Sylvain Paquette
In Full Bloom: Drar, Nip and Vlan
---
visions, vol 13 no 2 (spring 2011)
Translations
A Tale of Two Cities: Montreal, by Pierre Bouchard
Capital Ideas by Claude Potvin + Daniel Miron
SuperNatural: The Burden of Wilderness, by Kelty McKinnon
---
awards of excellence, vol 13 no 3 (summer 2011)
---
international practice, vol 13 no 4 (autumn 2011)
Translations
Saint-Viateur Street East: A New Life Cycle Begins, by Micheline Clouard
Terra Incognito, by Peter Soland
Nature And Landscape In China, by Corinne Thibaut
If You Build it, They Will Come, by Jean Trottier with George Stockton + Drew Wensley
---
beyond the brick wall, vol 12 no 1 (winter 2010)
Translations
Urban Eggheads: Rethinking the City, One Hen at a Time, by Sylvie Halais
---
leadership, vol 12 no 2 (spring 2010)
Translations
Leadership: A Word to Reconsider, by Jean Landry
NEW! Reflections on the Third Wave: Great work in PHOTOS!
Wychwood Barns: Great Old Bones in a New Neighbourhood, by Sylvie Halais
NEW! Why the Falls Reverse, by Dan Glenn explains
The Project of Our Lives, by John MacLeod
---
awards of excellence, vol 12 no 3 (summer 2010)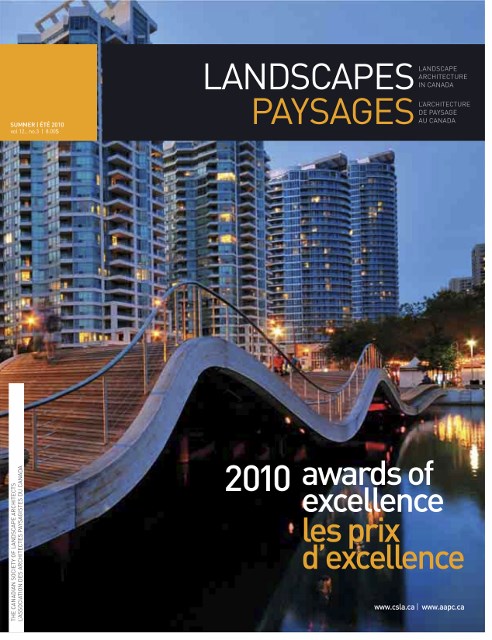 ---
the long view, vol 12 no 4 (autumn 2010)
Translations
Lewis Mumford: Those 42-year-old questions, by Andrew Wilson
Lost… and Found: The Lairet River and the Birth of Canada, by Mylène Carreau + Charlotte Simard
Urbanism, Danish Style, by Marie-Claude Séguin
Mission Design, by Raquel Peñalosa
---
future tense, vol 11 no 1 (winter 2009)
---
75 years: colours of the profession, vol 11 no 2 (spring 2009)
---
awards of excellence, vol 11 no 3 (summer 2009)
Translations
Notes & Letters | Courrier des lecteurs French
---
landscape+urbanism, vol 11 no 4 (autumn 2009)
Translations
Montreal's Evolving Urban Vision, by Richard Gaudreau
The Last Word, From Here to There, by Jean Landry
---
L/P Facebook, vol 10 no 1 (winter 2008)
---
artscapes, vol 10 no 2 (spring 2008)
---
awards of excellence, vol 10 no 3 (summer 2008)
---
beyond our borders, vol 10 no 4 (autumn 2008)
---
landscapes from the land, vol 9 no 1 (winter 2007)
---
the residential landscape, vol 9 no 2 (spring 2007)
---
defining places, vol 9 no 4 (autumn 2007) 
---
greenways & trails, vol 8 no 1 (winter 2006)
---
celebrating vibrant cities, vol 8 no 2 (spring 2006)
---
awards of excellence, vol 8 no 3 (summer 2006)
---
finding common ground, vol 8 no 4 (autumn 2006)
---
landscape architecture in Canada 40 yrs, vol 7 no 1 (winter 2005)
---
the detailed world of children's landscapes, vol 7 no 2 (spring 2005)
---
awards of excellence, vol 7 no 3 (summer 2005)
---
creating landscapes for seniors, vol 7 no 4 (autumn 2005)
---
IFLA 2003 - International Practice, vol 6 no 1 (winter 2004)
---
rehabilitating urban waterfronts, vol 6 no 2 (spring 2004)
---
CSLA Professional Awards 2004, vol 6 no 3 (autumn 2004)
---
CSLA Professional Awards 2003, vol 5 no 1 (spring 2003)
---
IFLA 2003 - Practice in Canada, vol 5 no 2 (summer 2003)
---
urban fabric, vol 4 no 1 (winter 2002)
---
CSLA Professional Awards 2002, vol 4 no 2 (summer 2002)
---
CSLA Professional Awards 2001, vol 3 no 2 (autumn 2001)
---
landscape, ecology and design, vol 3 no 1 (summer 2001)
---
CSLA Professional Awards 2000, vol 2, no 3 (autumn 2000)
---
landscape and identity, vol 2, no 2 (summer 2000)
---
restorative environments: design for human health, vol 2, no 1 (winter 2000)
---
awards and competitions in Canada, vol 1, no 1 (fall 1999)