CSLA Encourages Stronger Action on the Biodiversity Crisis

The CSLA urges governments at the Convention on Biological Diversity COP15 in Montréal to commit to strengthened global conservation and biodiversity goals by protecting at least 30 percent of terrestrial, coastal and marine ecosystems by 2030 (30 x 2030).
---
Mapping the Vulnerability and Exposure to Extreme Heat Waves of Populations Living in Housing in Canadian Communities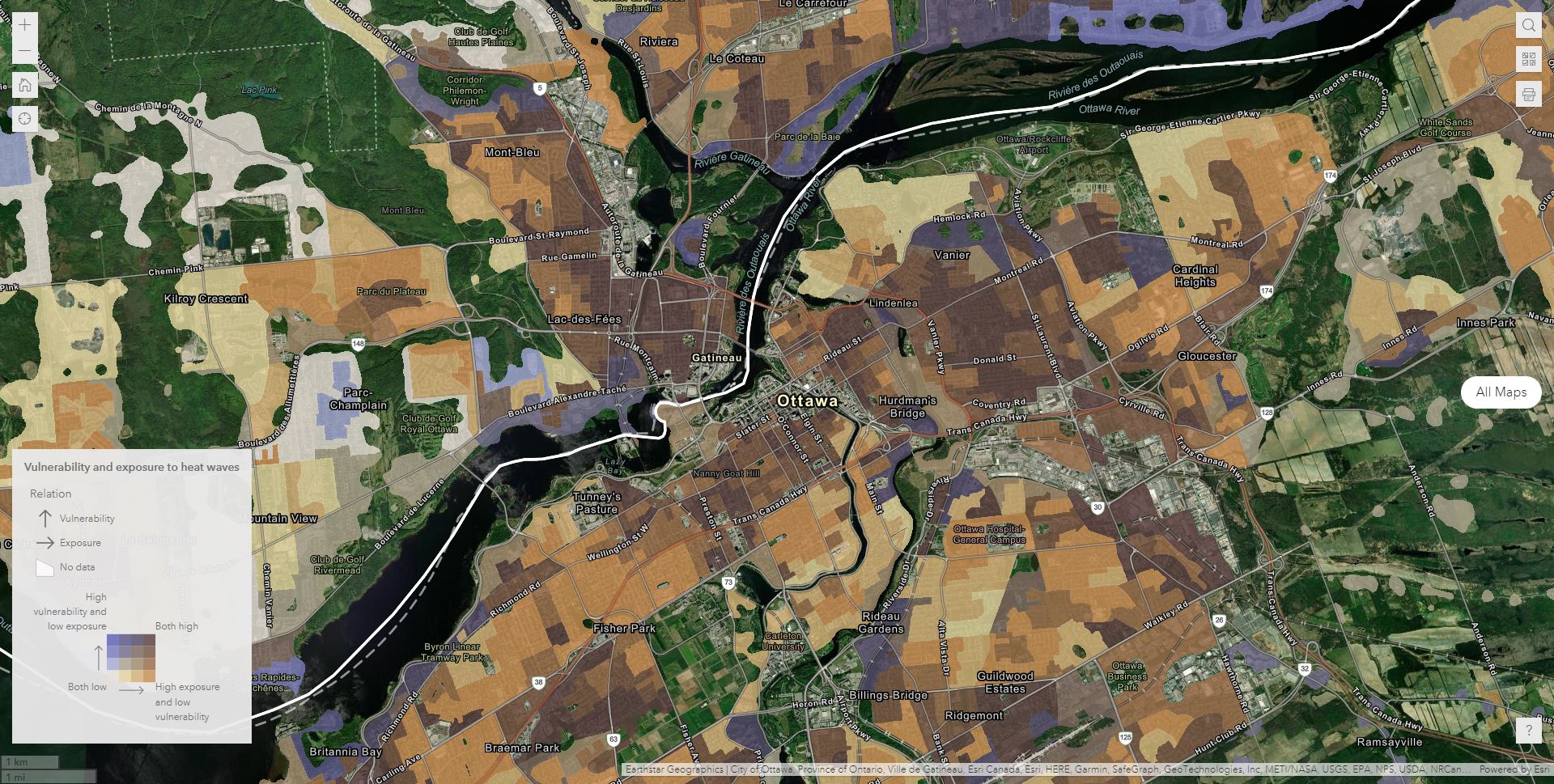 The Department of Geography of Université Laval has just launched a new online application dedicated to mapping the vulnerability and exposure to extreme heat waves of populations living in 156 urban areas across Canada. This application is free to use and available to industry professionals as well as the general public.
The tool allows for the identification of geographic areas that are vulnerable and/or exposed to heat waves, which will help specialists formulate more effective mitigation strategies, assist in decision making and establish procedures related to heat wave periods. Organizations can also take advantage of the application by downloading the geospatial data and integrating it into their GIS software.
---
CSLA Responds to the National Adaptation Strategy
Members Grant Fahlgren and Colleen Mercer Clarke Represented the Profession in two Advisory Tables
---
FACT SHEET: Biden-⁠Harris Administration Announces Roadmap for Nature-Based Solutions to Fight Climate Change, Strengthen Communities, and Support Local Economies
At COP27 in Egypt, the Biden-Harris Administration is releasing the Nature-Based Solutions Roadmap, an outline of strategic recommendations to put America on a path that will unlock the full potential of nature-based solutions to address climate change, nature loss, and inequity. This marks the first time the U.S. has developed a strategy to scale up nature-based solutions.
---
Jane Welsh, Chair of the Committee on Climate Adaptation, Addressing climate change through advocacy, policy and planning
Three Toronto-based leaders representing a real estate company, a non-profit agency, and landscape architect Jane Welsh for the City of Toronto were invited for the final episode of the first season of SvN Speaks, to address the symbiotic relationship between municipalities, advocacy groups, and the real estate development community.
---
Nature-Based Solutions by Design
Nature-based Solutions (NbS) provide society with powerful alternatives to challenges posed by climate change, biodiversity loss, food security and accessibility to clean water.  
Recognizing how fast environments are changing in today's world, landscape architects often seek the newest science at a scale relevant to their work through constructive partnerships with scientists working in governments, academia, and international organizations.  In doing so, we ensure that our profession operates on the best of current knowledge, and that we are capable and informed on changing priorities, policies, and best practices.
Read the CSLA's Nature-Based Solutions by Design brief
The Nature-Based Solutions by Design brief works hand in hand with the CSLA's Liveable Communities brief. Together, they make the case for our profession. Read the CSLA's Liveable Communities brief
---
---
CSLA's Position Paper on Climate Adaptation
Resilient, Transformative and Sustainable: A Positive Approach to a Changing Future
Climate is changing, local weather patterns are becoming more extreme, and the collective actions of humans have had a significant influence on these changes. The CSLA believes that by working across environmental and cultural systems, landscape architects are uniquely positioned to engage professions, industries and governments in new alliances better equipped to innovatively address complex social and ecological problems and to fully express the opportunities inherent in principles of equity, sustainability, resiliency and democracy. 
Read the CSLA's Position Paper on Climate Adaptation
---
The Adaptation Primers
Introductory books that provide basic information on the most complex challenge facing decision-makers in this first half of the 21st century.  
Read the Adaptation Primers to learn more about this global challenge.
---
Steps to Help Landscape Architects Plan and Design for the New Climate
Learn about the Nine steps to help you plan and design for the new climate
---
IFLA's Climate Actions
IFLA Climate Action Commitment
In September 2021, the CSLA Board of Directors endorsed the IFLA Climate Action Commitment which commits the profession to a series of strategies to limit planetary warming to 1.5 degrees C.
Learn more about the action commitment here
IFLA Declares a Climate and Biodiversity Emergency
September, 2019 - The International Federation of Landscape Architects (IFLA) has declared a Climate and Biodiversity Emergency at the IFLA World Congress in Oslo, Norway. The move comes following the unanimous support of the 77 voting nations and it maps out an action plan of what IFLA will do in response to the issues the globe is facing. 
Canadian Landscape Architects Support the International Global Accord: Adaptation for a Changing World
Ottawa – November 29th, 2018– As of November 9th, 2018, the nine regional, provincial and territorial associations that comprise the Canadian Society of Landscape Architects (CSLA) have ratified the International Federation of Landscape Architects' (IFLA) historic Global Accord on adaptation for a changing world. The Canadian was the first national association to ratify the Accord, and is also the first to have completed ratification by all its regional, provincial and territorial components. 
---
CSLA Signs a Joint Statement on Advancing Integrated Climate Action
December 18th, 2018 - A joint statement was signed by the following national professional associations and endorsed by national municipal climate resources provider, ICLEI Canada, in support of advancing LCR in and across their respective fields:
Canadian Society of Landscape Architects (CSLA)
Canadian Institute of Planners (CIP)
Royal Architectural Institute of Canada (RAIC)
Canadian Water & Wastewater Association (CWWA)
Read the Press Release and Read the statement
---
The Committee on Climate Adaptation
Responsible for setting direction, representing the CSLA, managing workgroups and coordinating our engagement with government, and address climate justice.
Members: Jane Welsh (Chair), Hope Parnham (Manager, Advocacy and Strategic Initiatives), Nicci Theroux, Ben Watt-Meyers, , Katie Black, Jeff Cutler, Andrea Kennedy, Caelan Griffiths, Lauren Mac Isaac, Todd Fell, Catherine Berris (Board Champion)
The Climate Case Studies Workgroup
Responsible for establishing the information collected, the promotion of and use for advocacy of case studies on good practices or shining examples of climate adaptation projects.
Members: Colin Berman (Co-Chair), Todd Fell (Co-Chair), Hope Parnham (Manager, Advocacy and Strategic Initiatives), Amy Rene, Brad Keeler, Chenzi Li, Fareena Khaliq, Jennifer Koppe, James Thomas, Karina Verhoeven, Karen Black, Laurelin Svisdahl, Mark Bauche, Mike Scatliff, Nicole Lamirande, Rachel Philippe-Auguste
Nature-based Solutions Workgroup
Focuses on promoting the profession's emphasis on NbS as a climate solution, and potentially liaise with other NbS groups, such as the International Union for the Conservation of Nature
Members: Cynthia Graham (Chair), Hope Parnham (Manager, Advocacy and Strategic Initiatives), Alessandro Colavecchio, Todd Fell, Brad Keeler, Andrea Kennedy, Lauren Mac Isaac, Scott Murdoch, Amy René, Mauricio Garzón, Michael Ormston-Holloway, Karina Verhoeven, Kerrie Harvey
Coastal workgroup
Focuses on the particular vulnerabilities of Canada's coastlines
Members: Hope Parnham (Manager, Advocacy and Strategic Initiatives), Alessandro Colavecchio, Jeff Cutler,  Cynthia Graham, Brad Keeler, Lauren Mac Isaac, Scott Murdoch