The 2015 CSLA Congress was held in Mexico City, Mexico, from May 20 to 23, 2015 at the Hilton Mexico City Reforma. The theme was Green Futures - Livable Cities of Tomorrow.
SCROLL DOWN to view pictures from the Congress
Read the 2015 Congress Program
View some of the Congress Presentations
Dr. Susana Bianconi, On John Steinbeck's turtle and the new highways in Mexico
Heather Braiden & Paula Meijerink, Lather, rinse, repeat: cities at the edge of resource extraction
David Flanders, Restoring Guadalajara's Last Great Urban Forest: An ecologically integrated vision for Bosque Los Colomos
Isabelle Giasson, 50 Years of Placemaking: A Human Scale Approach for Redesigning the Public Realm (and notes)
Trevor McIntyre, Intermodal Hub (CETRAM) Guidelines – Connecting Mobility with Urbanism
María Cecilia O´Shee, The Cité Internationale, an Emblamatic Case: The Role of Urban Design in the Transformation of Cities
Jean Trottier, Wadi Hanifah - Urban|Landscape Infrastructure for the 21st Century
Press Release
Landscape Architects Lead Discussion on Liveable Cities of Tomorrow at CSLA Congress in Mexico City, May 20-23, 2015
Why Mexico?
Read an open letter from Serge Poitras, 2015 Congress Chair
Read a Fact Sheet about Mexico
Thanks to our Sponsors
Partner Level
Principal Level
Associate Level
Media Partner
Album
(all photos by J. Landry)

Serge Poitras, Congress Chair, welcomes delegates to the opening reception.

Delegates enjoying the opening reception.

A tour group at Technoparque.

A reception hosted by IBI Group at the Hotel Condessa.

Serge Poitras presenting Andrés Galindo, Vice-President of the Mexican Society of Landscape Architects with a copy of Ron Williams' Landscape Architecture in Canada
during the opening breakfast.

Keynote speaker Mario Schjetnan.

Keynote speaker Gil Penalosa.

Serge Poitras thanking keynote speaker François Rivest.

Participants enjoy the charrette and David Flanders reports on the results.

The panel, Transforming Landscapes, with Claude Potvin (moderator) and Mario Schjetnan, Gil Penalosa and Laura Janka.

Michelle Legault, CSLA Executive Director, and Aina Budrevics, OALA Administrator, at the registration desk.

The signatories of the CSLA and Component Association Terms of Reference at the Annual General Meeting.

Rob Norman, CSLA President, Richard Zweifel, ASLA President, and Carol Craig, CSLA Past President.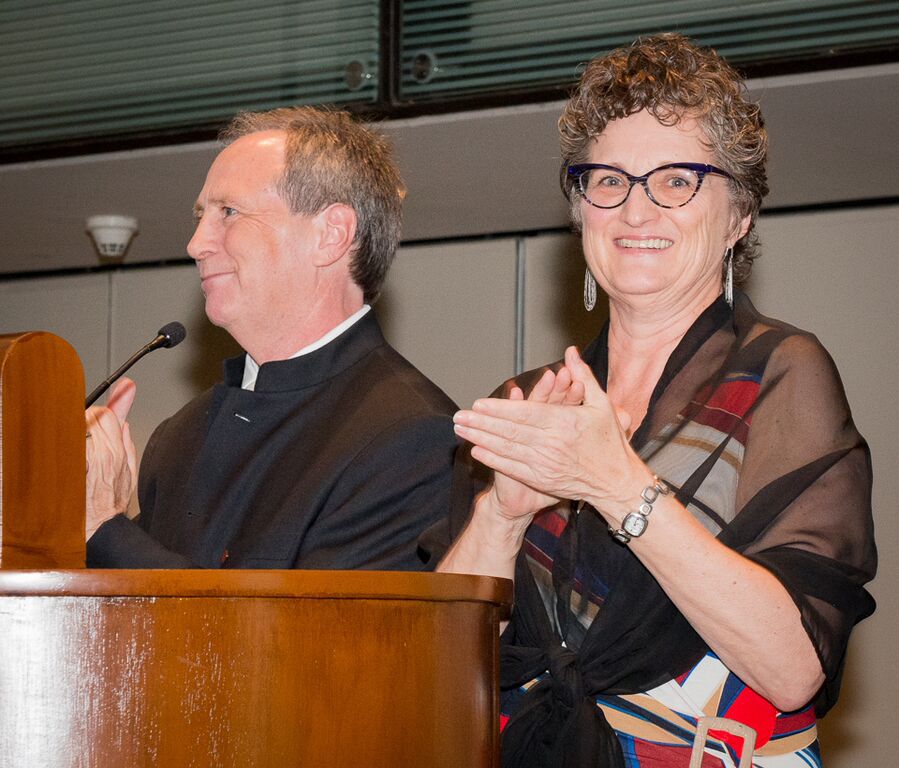 Rob Norman and Carol Craig opening the awards gala.

Alan Tate, Chair of the CSLA Awards of Excellence.

Wendy Graham presenting LACF Past President Cecelia Paine with a certificate of recognition.
Awards Gala held in Mexico City on 23 May 2015

Landscape Architecture in Canada / Architecture de paysage du Canada - Ron Williams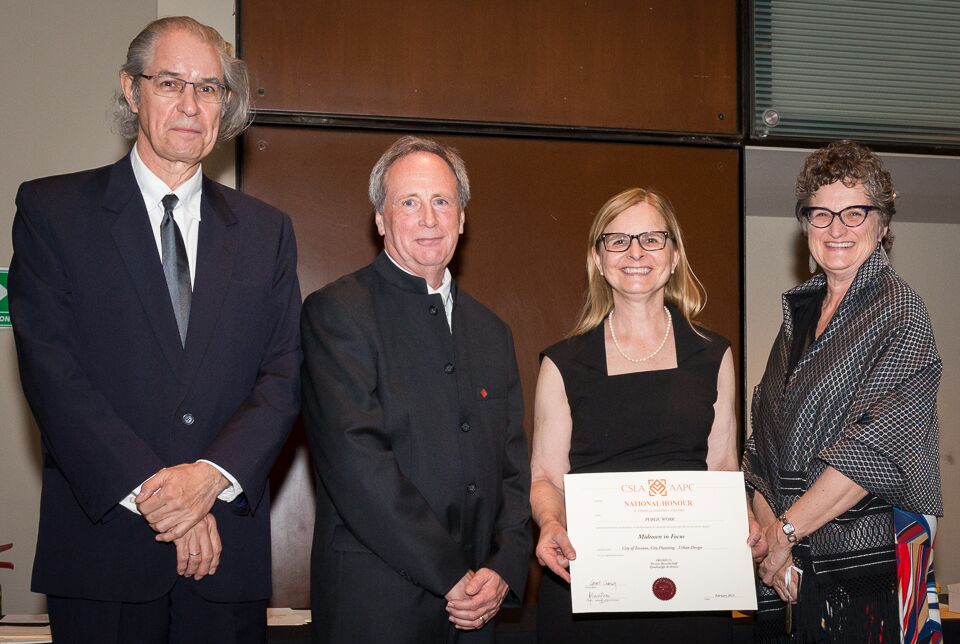 Midtown in Focus (Toronto), PUBLIC WORK office for urban design & landscape architecture - Helene Iardas

Bow RiverWalk (Calgary), Stantec Consulting Ltd. - Ryan Mortson

Pedestrian Campus (Vancouver), The University of British Columbia - Joanne Proft

East Side Road Native Revegetation Initative (Island Lake), Scatliff + Miller + Murray Inc. - Bob Somers

East Bowmont Natural Environment Park Design Development Plan (Calgary), O2 Planning + Design Inc. - Douglas Olson

Kipekiskwaywinan: Our Voices – York Factory First Nation's Evaluation and Assessment of the Keeyask Generation Project (Northern Manitoba), HTFC Planning & Design/York Factory First Nation - Natasa Juck

Parkland County Environmental Conservation Master Plan (Parkland County), O2 Planning + Design Inc. - Douglas Olson

Acadia Point (Blandford NS|N-É), Virginia Burt Designs, Canada Inc. - Virginia Burt

Assiniboine Park Nature and Adventure Playground (Winnipeg), Scatliff + Miller + Murray Inc. - Bob Somers

Dominion Bridge (Lachine), Groupe IBI-CHBA (now|maintenant Lemay) & Groupe IBI-DAA (now|maintenant Lemay) - Isabelle Giasson

The Landscape of Memory: Calgary Soldier's Memorial (Calgary), The City of Calgary/ Marc Boutin Architectural Collaborative/The Calgary Soldiers' Memorial Committee - Greg Stewart & Marc Boutin

St. Patrick's Island Park (Calgary), W Architecture / Civitas with|avec IBI Group - Garth Balls

Terra Nova Adventure Play Experience (Richmond) & McBurney Lane, Hapa Collaborative - Sarah Siegel



The Qu'Appelle Valley Integrated Tourism Strategy (Qu'Appelle Valley Region), O2 Planning + Design Inc. - Douglas Olson
About the Theme
Green Futures – Livable Cities of Tomorrow
Over fifty percent of today's world population lives in cities. As world population grows, ninety percent of that growth will be in cities. Given ever present concerns about environmental influences, cities need to become more sustainable while retaining and improving their livability. The CSLA's 2015 Congress in Mexico will explore how our cities will change and how landscape architects will influence and provide leadership to redefine cities into the future. City form is strongly reflective of decisions made over time. Landscape architects have ensured the successof urban planning, planning and creation of green and other infrastructures, urban design, transportation planning and the creation of parks and open space. As our cities grow and change, how will landscape architects expand beyond their traditional roles and extend their influences? Historically, our cities were formed based on the social, economic and cultural needs of the people who lived in them. Cities are also made up of communities steeped in their own heritage of place and social structure. In Canada and Mexico, many landscape architects have successfully identified heritage influences, both people and spaces, and recognized their contribution to a livable city. The successful cities of the future will focus on retaining and preserving these heritage and cultural influences. Landscape architects' uses of historic and cultural values in their work are an important aspect of our role which contributes to the success of a city, the creation of strong communities and the confidence of its inhabitants. The 2015 Congress will focus on the new green future for our cities, what landscape architects have already contributed and how their work will be focused in the future in three key areas:
•    Landscape Urbanism and Infrastructure
•    Active Transportation
•    Heritage and Cultural Preservation
Landscape Urbanism and Infrastructure
This sub-theme simply considers how we can improve a city's livability by organizing them as multifunctional, connected green spaces. The complex challenges and pressures that cities face across many parts of the continent are growing immensely and often erode their liveability and resources. Compounding these are the changing vulnerabilities and risks such as water scarcity, air pollution, watershed contamination, inundation, food security and energy independence that threaten cities over the next century. Landscape architects must adapt-to-suit and ensure that landscape, building and urban systems are designed together to achieve multiple benefits for people, nature and economy. Some hallmarks of the practice of "landscape urbanism" are highly relevant for achieving this end, and here we identify these without being limited by the confines of ideology. These include using extensive, connected open space to mitigate the decline of outdated city forms and considering landscape as cost-effective, functioning and light infrastructure. Analytical, ecological thinking is also germane; evolving urban ecological processes underlying and informing aesthetics. These directions are still relevant, yet the practitioners of contemporary sustainable urbanism must echo the changes and pressures that confront our cities today and often retrofit their way into largely unsustainable, densifying or spreading urban structures. Nowhere are these challenges more paramount than in Mexico City. An epicentre of development and challenges; culture and commerce; creativity and audaciousness, Mexico City is a context for considering how landscape architecture can make inroads in addressing some of the great urban problems that face our world this century. In Mexico City, paisajistas can claim their role in mitigation and integrated urban design rather than leaving cities to employ fundamentally architectural or engineered solutions. What have we learned from our experience practicing urbanism in Canada and Mexico, and moving beyond traditional roles of landscape architects that we can share with practitioners in Mexico? What perspectives can we bring back from a country with a proven resilience to change, adversity and sometimes chaos?
Active Transportation
Active transportation refers to any form of human-powered transportation – walking, cycling, non-mechanized wheel chairing, snowshoeing/skiing, in-line skating or skateboarding. There are numerous benefits from active transportation: health – it provides an opportunity to be physically active on a regular basis; social – active transportation is accessible to everybody and increases social interactions; transportation – it reduces road congestion; environmental – active transportation is environmentally friendly and can contribute to reductions in greenhouse gas emissions; and, economic – it saves money on gas and parking. In Canada, the active transportation modal split is growing slightly but represents only 19% of work trip motivation.  In Mexico City, 20% of the trips come from private cars, the remaining trips are generated by public and active transportation. The promotion of active transportation is growing in all large cities in the world. Numerous cities and nations such as Canada and Mexico see active transportation as a solution to solve problems due to cities congestion, improve the health of populations and reduce greenhouse gas emissions. Beyond the trends and will of our elected leaders to put forward active transportation, this sub-theme reviews the results outcomes in world large cities by focusing on Mexican and Canadian experiences. Precisely, to what point have policies, incentives and planning tools implemented in the last decades been successful in carrying out active transportation in our cities? What lessons have we learned in those years? What role has the landscape architect played in planning and implementing active transportation networks? Which role will he/she be playing in the future?
Heritage and Cultural Preservation
This sub-theme will explore how our heritage buildings, districts and landscapes create a unique sense of place and a rooted sense of local identity and continuity. No urban community can be sustainable without preserving its heritage and culture. Heritage conservation not only makes our city centers and neighbourhoods attractive, it also increases their desirability and value. Heritage and culture includes tangible and intangible culture inherited from past generations, enjoyed in the present and bestowed to future generations. According to UNESCO, tangible culture includes buildings, monuments, landscapes, works of art, and artifacts, and intangible culture includes folklore, traditions and language. All of these shape the sense of social tradition, of belonging somewhere and identifying with the place where we live. Awareness of this connection between culture and development underscores the critical importance of preserving heritage and culture. In a world where most people will be living in cities and more than 90 percent of urban growth occurs in the developing world, cities attempt to modernize without losing their unique character, embodied in their historic cores and heritage assets. As cities expand, conservation and continued use of heritage can provide crucially needed continuity and stability. The benefits of investing in heritage for livability, job creation, and economic growth have gained increasing relevance in past decades. A city's historic core can also differentiate that city from competing locations, thus helping the city attract people and investments. Heritage anchors people to their roots, builds self-esteem, and restores dignity. Identity matters to all vibrant cities and all cultures. This is particularly relevant in Mexico and in the rich cultural mosaic that is Mexico City, in which there remains but few reminders of  the noble city of Tenochtitlan, ancient capital of the Aztec empire, later colonized by the Spaniards in the 1500's and now a metropolis and prime economic hub of Latin America.
Exploring and understanding how the goals of livable and sustainable cities are defined and  implemented now and into the future will ensure that the 2015 Canadian Society of Landscape Architects Congress theme of  Green Futures – Livable Cities of Tomorrow  will challenge our future thinking and motivate our profession in key areas of influence to benefit people and communities.
2015 Congress Planning Committee
Serge Poitras (Chair)
Claude Potvin
Liane McKenna
David Flanders
Jim Vafiades
Adriana Melendez
Mónica Pallares Trujillo
Isabelle Giasson