The CSLA President's Award is the honour the President of the Canadian Society of Landscape Architects may bestow upon a CSLA member for outstanding contribution to the profession.  
---
Chris Grosset (2018)
Chris Grosset is a partner at NVision InSight Group, an Indigenous Consulting firm based in Iqaluit and Ottawa that provides services to empower Inuit, First Nation and Métis communities and organizations.  Chris has worked across northern Canada for almost two decades.  His projects seek the respectful integration of landscape architecture with local Indigenous principles in community development, land use, and protected or sacred areas. He is also a part-time instructor of community planning at Nunavut Sivuniksavut in Ottawa, a post-secondary program providing Inuit youth with academic learning in their cultural context. Chris is a Fellow of the Canadian Society of Landscape Architects, the President of the Nunavut Association of Landscape Architects, and a member of the Canadian Association of Heritage Professionals.  He served on the CSLA Board of Directors for seven years; Chaired the 2011 CSLA Congress in Iqaluit Nunavut; and is currently on the Nomination Jury for the College of Fellows.  Since 2016, he has been the Chair of the CSLA Indigenous Issues Task Force, mandated "to guide the CSLA in improving awareness and capacity for supporting Canada's First Nations, Inuit, and Métis Peoples".  Chris believes that landscape architecture, and every landscape architect, can contribute to Reconciliation with Indigenous people.
Virginia Burt (2017)
2016 - Colleen Mercer Clarke
Colleen is an interdisciplinary scientist specializing in advancing community resilience to a changing climate.  With over 40 years experience in the consulting and research sectors in Canada, and internationally, Colleen's career has focused on the sustainable development of resources and communities through stewardship and ecosystem-based approaches to the conservation of natural and cultural resources.  Trained first as an aquatic/marine ecologist and landscape architect, her portfolio of projects ranged in scale from international and national coastal management initiatives, environmental audit and impact assessment, through watershed, regional and municipal planning initiatives, detailed site design and environmental management. Colleen now works as a member of national and international community-university alliances and other interdisciplinary teams focussed on aiding adaptation to a changing climate in communities in Canada and the Caribbean, and on the effective transfer of knowledge from science to decision-making.  In 2012 she was appointed to the National Advisory Committee on coastal assessment at the Climate Change Directorate of Natural Resources Canada, and served as one of the primary authors for the 2016 science-based assessment of adaptation along Canada's marine coasts.  Colleen is a Fellow of the Canadian Society of Landscape Architects, a Past President and member of the Board of the CSLA, and a Past President of the Atlantic Provinces Association of Landscape Architects.  She has recently been accepted as a Member for the Commission on Ecosystem Management of the International Union for Conservation of Nature (IUCN).  Currently, Colleen chairs both the CSLA's Committee on Climate Adaptation and the Working Group on Climate Change of the International Federation of Landscape Architects (IFLA).  
Robert Norman and Colleen Mercer Clarke (Photo: J. Landry)
2015 - Alexander Topps
Robert Norman, Alex Topps and Carol Craig (Photo: J. Landry)
2014 - Gordon Smith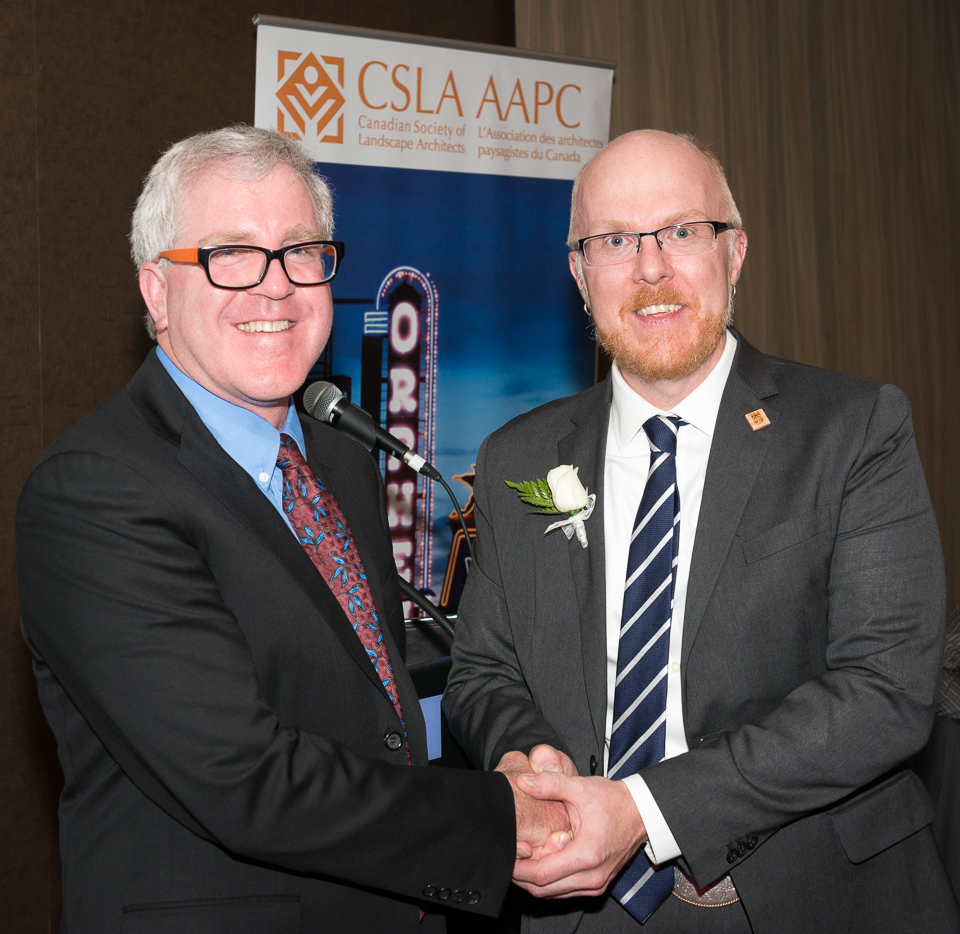 Gordon Smith receiving the President's Award from Peter Briggs (Photo: J. Landry)
2013 - Linda A. Irvine

Linda Irvine receiving the President's Award from Claude Potvin (Photo: J. Landry)
2012 - Arnis Budrevics

Claude Potvin, Arnis Budrevics and Liane McKenna (Photo: J. Landry)
2011 - Sara Jane Greutzner, Peter Klynstra
2010 - Jerry W. Belan, Margery Winkler
2009 - Gérald Lajeunesse, Ronald Middleton
2008 - Cathy Sears, Liane McKenna, Wendy Graham, Judy Lord